Peirce Is Pushing Blockchain Adoption
Upcoming Events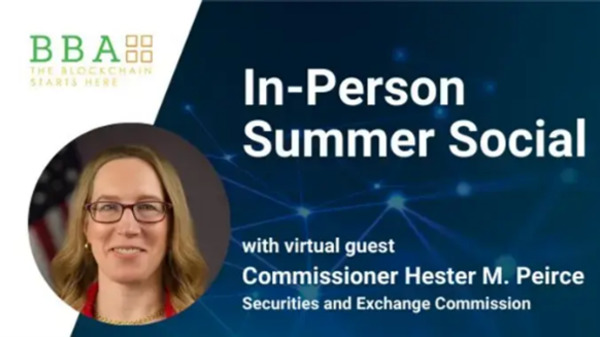 Summer Social with SEC Commissioner Hester Peirce
Thursday, June 23, 2022, 6PM – 8:30PM EST
This in-person networking event offers a pre-recorded interview with the SEC's Hester Peirce. Peirce has worked hard to boost blockchain adoption through legislation like her Token Safe Harbor 2.0 proposal.
Careers in Blockchain
Looking for a career in blockchain? Do you need great blockchain talent? If so, check out the Blockchain Jobs section of our newsletter and website.
First, take a moment to complete a short survey (it should only take about 30 seconds) and help us improve your experience with the BBA. Access the survey here. Thank you!
If you're a blockchain professional looking for your next job, check out the Boston Blockchain Association Network. We post a curated list of blockchain positions in the Boston area. New jobs are constantly being added, so there's sure to be something suitable to your talents.
Fidelity needs a Principal Java Engineer, Wallet Blockchain. Klaxontech Inc requires a Full Stack Developer with Crypto, and DraftKings Inc. is hiring a Director of Business Development (Marketplace & Blockchain).
Job seekers are encouraged to submit CVs, while employers can list job openings. For employers, we welcome links to your job postings. For employees, send us links to your online resumes and cover letters. Contact us at bostonblockchainassocation@gmail.com with the subject line "JOBS."
Member Shoutout
This week, the BBA salutes bankprov. The company has been around for nearly 200 years and has partnered with several leaders in underserved sectors. The company now focuses on the needs of the digital currency space and offers fair banking protocols to blockchain participants everywhere.
Thanks for the extraordinary knowledge you bring to the table and for your help in boosting blockchain adoption!
Subscribe to stay connected with the Boston blockchain scene