Lunch and Learn with the Authors of "Embedded Finance"
Last Week's Event
Last week saw attendees get up close and personal with Byron Gilliam of the famed crypto newsletter Blockworks. Gilliam shared his thoughts on the digital currency space and what he thinks the future holds.
Upcoming Events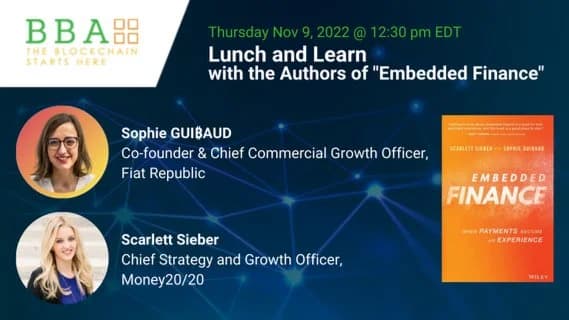 Wednesday, November 9, 2022, 12:30 PM – 1:30 PM EST
Sit down with Scarlett Sieber of Money20/20 and Sophie Guibaud of Fiat Republic. They're introducing the world to the growing fintech trend of embedded finance in their book, "Embedded Finance: When Payments Become an Experience."
From our friends at the Boston RegTech Meetup:
As mentioned previously in the BBA Meetup on Regulatory Nodes, artificial intelligence is a potentially important tool to scale the ability to detect compliance challenges, as well as equipping fintechs with the capability to minimize regulatory risk. Sponsored by Saifr, a new compliance artificial intelligence use case, this is a must attend event for anyone with interest in cutting edge AI and NLP and regulatory compliance.
Register: https://www.meetup.com/boston-regtech-meetup/events/289351501/
Careers in Blockchain
Looking for a career in blockchain? Do you need great blockchain talent? If so, check out the Blockchain Jobs section of our newsletter and website.
First, take a moment to complete a short survey (it should only take about 30 seconds) and help us improve your experience with the BBA. Access the survey here. Thank you!
If you're a blockchain professional looking for your next job, check out the Boston Blockchain Association Network. We post a curated list of blockchain positions in the Boston area. New jobs are constantly being added, so there's sure to be something suitable to your talents.
Incendia needs a Backend Software Engineer – 3 Openings – Remote. Poloniex requires a Blockchain Support Engineer, and Fidelity is hiring a Senior Manager, Crypto Wallet Product Owner.
Job seekers are encouraged to submit CVs, while employers can list job openings. For employers, we welcome links to your job postings. For employees, send us links to your online resumes and cover letters. Contact us at bostonblockchainassocation@gmail.com with the subject line "JOBS."