Kate Lipper-Garabedian Requests Support from the Blockchain Community
Last week's event
Last week featured a startup course that taught attendees the basics of creating their own blockchain companies. Students explored ideas while gaining access to various tools and resources designed to boost their innovative spirit.
Upcoming Events
Tell Your Legislators to Support Blockchain Bill H.4513!
Kate Lipper-Garabedian of the 32nd Middlesex district in the Massachusetts House of Representatives is asking the blockchain community to get behind her new Massachusetts Blockchain Bill. Please write to your legislators in support of the bill, known as Blockchain Bill H.4513.
The bill seeks to establish recommendations for the legislature and policymakers to expand the crypto space and the use of blockchain in the Commonwealth. It received a favorable review from the Joint Committee on Advanced Information Technology, the Internet and Cybersecurity last March. The legislative session will end on August 1, and your help could be crucial to its advancement.
Click here to learn more about the bill and here to find your state rep and a proposed draft email you can use for copy and paste purposes.
As we've seen, letters work. BBA members proved this last week when they wrote to Massachusetts lawmakers asking them to support the Responsible Financial Innovation Act, S.4356 co-authored by Cynthia Lummis of Wyoming and Kristen Gillibrand of New York. Handwritten or typed letters that arrive in the mail can impact leaders' ways of thinking as so few people write letters anymore.
Want your letter to hit home? Here are a few tips:
Step 1: Be Clear on Your Goal
Many people who write their senators are crackpots. Often, they're people with too much time on their hands or just plain nutjobs, and a well-written letter stands out like a nugget of bright gold.
Also, most people don't like to read. People get bored after the first couple of paragraphs, so get to the point and quickly. Boldface your request in the first sentence. If you want legislators to support the new crypto bill, say it up front, and reference the bill number or name.
This makes it easy for junior staffers to put it on their brief for the senator. A well-written letter is like a shot of caffeine and can clarify a senator's thinking.
Step 2: Be Concise
People are busy, especially government staffers. They have to deal with long diatribes from people that are passionate about their causes (it's politics, after all).
Your senator may not read your letter directly. It may end up being a checkbox on a column for a cause, but that checkbox matters, especially if many people line up behind a cause.
Here in Massachusetts, for example, Senator Elizabeth Warren has been famously skeptical of crypto. A huge stack of letters may not make her pro-crypto overnight, but it will have an impact.
Even if you think your senator is a lost cause, writing to them is still a good idea. Even if they don't support the bill you're discussing, you can ask them to keep crypto bipartisan. Working together is very important.
Step 3: Sign Your Name and Address
Sign your real address. When writing your elected official, showing them that you are a real, registered voter is your superpower.
Anyone that takes the time to write a letter is going to take the time to vote, and senators always want votes.
That's why writing a senator in another state may not be worth your time. This makes your job easier: you don't need to sway the entire senate, just a few members. That's all it takes!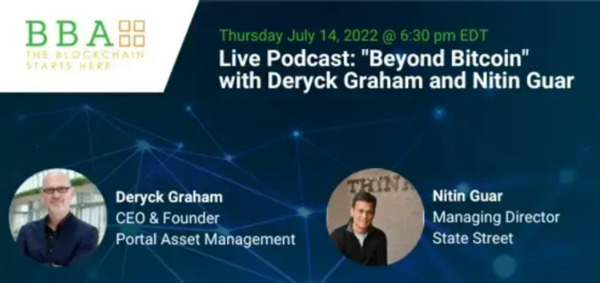 Thursday, July 14, 2022, 6:30 PM – 7:30 PM EST
This free, open, and live recording of the "Beyond Bitcoin" podcast will allow attendees to ask crypto questions in real-time and get answers. The topic will be "What We Can Learn from Crypto Institutional Investors."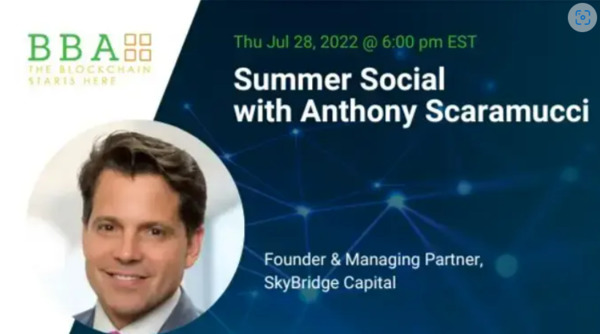 Thursday, July 28, 2022, 6PM – 8PM EST
Joining us live is former investment banker and White House communications director Anthony Scaramucci. As one of the world's leading crypto experts, he'll share his thoughts on the market and discuss strategies for moving forward.
Careers in Blockchain
Looking for a career in blockchain? Do you need great blockchain talent? If so, check out the Blockchain Jobs section of our newsletter and website.
First, take a moment to complete a short survey (it should only take about 30 seconds) and help us improve your experience with the BBA. Access the survey here. Thank you!
If you're a blockchain professional looking for your next job, check out the Boston Blockchain Association Network. We post a curated list of blockchain positions in the Boston area. New jobs are constantly being added, so there's sure to be something suitable to your talents.
Flipside Crypto Needs a Senior Data Engineer, Analytics, and a Project Manager – Partnership Operations. Fidelity requires a Crypto Product Manager Plynk.
Job seekers are encouraged to submit CVs, while employers can list job openings. For employers, we welcome links to your job postings. For employees, send us links to your online resumes and cover letters. Contact us at bostonblockchainassocation@gmail.com with the subject line "JOBS."
Welcome New Members
This week, the BBA salutes Bleumi, a blockchain tech firm that builds payment solutions and enables digital currency adoption through everyday payment and payout use cases. By making crypto available for payments, Bleumi is helping the initial dream behind crypto become a reality.
Thanks for the extraordinary knowledge you bring to the table and for helping to establish blockchain's presence in Boston and beyond!
Subscribe to stay connected with the Boston blockchain scene