How to Integrate Smart Contracts into Games
Upcoming Events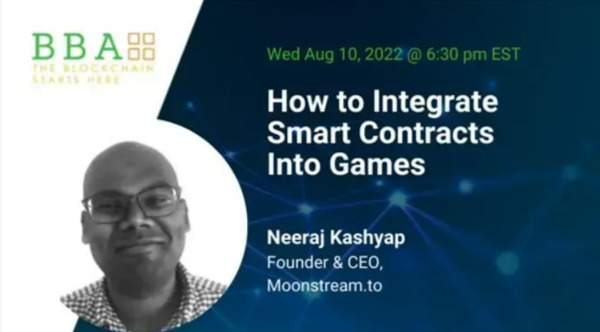 Wednesday, August 10, 2022, 6:30PM – 7:30PM EST
This free and open workshop features Neeraj Kashyap, CEO of Moonstream. He'll teach attendees how to plan for virtual economies, create fun gamification, and what tools they'll need to integrate blockchain into their games.
Careers in Blockchain
Looking for a career in blockchain? Do you need great blockchain talent? If so, check out the Blockchain Jobs section of our newsletter and website.
First, take a moment to complete a short survey (it should only take about 30 seconds) and help us improve your experience with the BBA. Access the survey here. Thank you!
If you're a blockchain professional looking for your next job, check out the Boston Blockchain Association Network. We post a curated list of blockchain positions in the Boston area. New jobs are constantly being added, so there's sure to be something suitable to your talents.
Cogo Labs needs a Data Scientist – Blockchain Insights. EY requires a Blockchain Full-Stack JavaScript Engineer – Staff II – Consulting – Location OPEN, and DraftKings Inc. is hiring a Senior Business Development Associate (NFT Marketplace and Blockchain).
Job seekers are encouraged to submit CVs, while employers can list job openings. For employers, we welcome links to your job postings. For employees, send us links to your online resumes and cover letters. Contact us at bostonblockchainassocation@gmail.com with the subject line "JOBS."
A "Thank You" to Our Members
This week, the BBA salutes Deloitte, a firm that prepares businesses for blockchain. The firm seeks to help companies, both old and new, integrate distributed ledger technology into their operations.
Thanks for the extraordinary knowledge you bring to the table and for helping to establish blockchain's presence in Boston and beyond!
Subscribe to stay connected with the Boston blockchain scene