"Crypto Mom" Offers Her Top-Notch Blockchain Expertise
Last week's event
Boston's own Kosta Hantziz and Lisa Loveland of Lynx Club NFT showed us the basics of creating and minting non-fungible tokens (NFTs). This was a virtual seminar for BBA members only.
Boston Blockchain Association (BBA) founder, volunteer, and corporate member Media Shower CEO, John Hargrave, recently gave a creative, insightful yet fun, TEDxBabsonCollege talk on the topic of bitcoin as a global reserve currency. Viewers will appreciate the surprises. Great work, John.
What are YOUR thoughts? Please Like, Comment, and Share.
---
Upcoming Events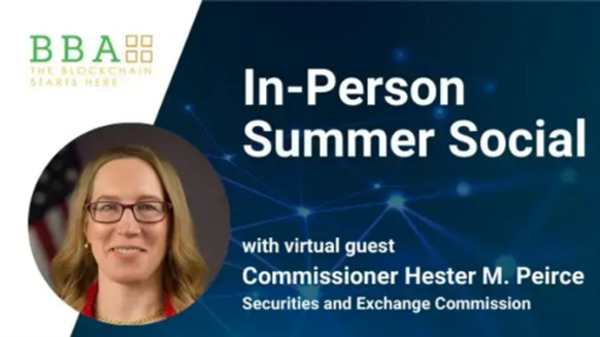 Summer Social with SEC Commissioner Hester Peirce
Thursday, June 23, 2022, 6PM – 8:30PM EST
This in-person networking event features a pre-recorded interview with Hester Peirce of the SEC. Known as "Crypto Mom," Peirce has strived to boost blockchain adoption through legislation like her Token Safe Harbor 2.0 proposal.
---
Careers in Blockchain
Looking for a career in blockchain? Do you need great blockchain talent? If so, check out the Blockchain Jobs section of our newsletter and website.
First, take a moment to complete a short survey (it should only take about 30 seconds) and help us improve your experience with the BBA. Access the survey here. Thank you!
If you're a blockchain professional looking for your next job, check out the Boston Blockchain Association Network. We post a curated list of blockchain positions in the Boston area. New jobs are constantly being added, so there's sure to be something suitable to your talents.
Coinbase needs a Blockchain Associate. Deloitte requires a Blockchain Developer – NBI_US, and Fidelity is hiring a Senior Software Engineer – Blockchain.
Job seekers are encouraged to submit CVs, while employers can list job openings. For employers, we welcome links to your job postings. For employees, send us links to your online resumes and cover letters. Contact us at bostonblockchainassocation@gmail.com with the subject line "JOBS."
Member Shoutout
This week, the BBA salutes Ropes & Gray. The company is the vanguard of the digital asset legal market and advises clients on all crypto and blockchain matters including commodities laws, tax compliance, and ICOs.
Thanks for the extraordinary knowledge you bring to the table and for your help in boosting blockchain adoption!
A Special Announcement
For the BBA network in New York City or Bostonians and others looking to make crypto connections in NYC:
A powerful event hosted by the Global Digital Asset & Cryptocurrency Association at etc.venues (360 Madison Ave.) will take place on June 15th & 16th. Known as the Crypto Connection Conference, it will explore the pathways for institutional crypto and broader digital asset adoption and the next wave of innovations, expectations, and opportunities. Register here and use the promo code "early bird" for $100 off your ticket price.
Subscribe to stay connected with the Boston blockchain scene