Byron Gilliam Tells Us What's Next in Crypto
Upcoming Events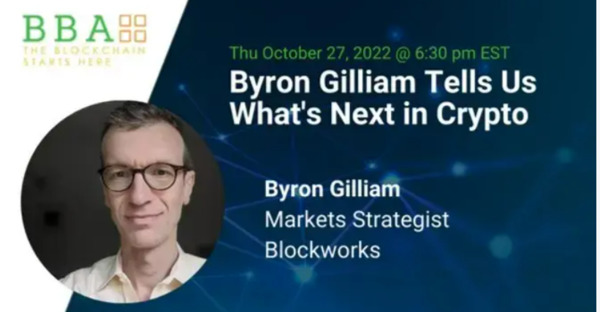 Thursday, October 26, 2022, 6:30 PM – 8 PM EST
In this free online event, attendees can connect with Byron Gilliam of the famed crypto newsletter Blockworks to learn about where crypto will possibly go in 2023. Connect with Byron here.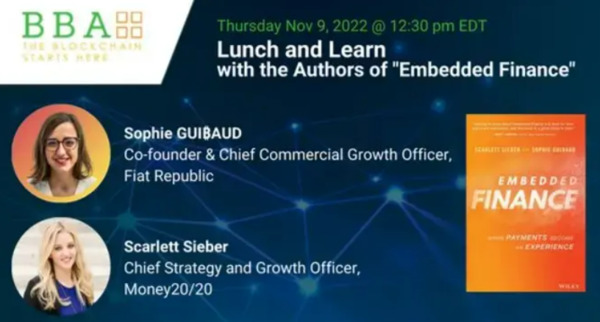 Wednesday, November 9, 2022, 12:30 PM – 1:30 PM EST
Dine with Scarlett Sieber of Money20/20 and Sophie Guibaud of Fiat Republic. They've authored the book, "Embedded Finance: When Payments Become an Experience," which details the trend of embedded finance and how it's changing industries.
A Special Announcement
The TABB/BBA Boston Institutional Digital Assets Forum is set for December 5th. Willkie Law has been confirmed as a diamond-level sponsor and will be leading the discussion on regulation. Circle, BankProv, BSO, and American Crypto Academy have been confirmed as platinum-level sponsors and will be speaking on TradFi, DeFi, and the dynamics of institutional adoption of digital assets.
If you're in the institutional digital assets space and want to get a jump start on 2023 opportunities, register here.
Note: There are a few sponsorships left. Please reach out to Mike Wise with the BBA for more information.
Careers in Blockchain
Looking for a career in blockchain? Do you need great blockchain talent? If so, check out the Blockchain Jobs section of our newsletter and website.
First, take a moment to complete a short survey (it should only take about 30 seconds) and help us improve your experience with the BBA. Access the survey here. Thank you!
If you're a blockchain professional looking for your next job, check out the Boston Blockchain Association Network. We post a curated list of blockchain positions in the Boston area. New jobs are constantly being added, so there's sure to be something suitable to your talents.
Deloitte needs a Tax Manager, Blockchain & Cryptocurrency in NFTS – Proven Solutions. Fidelity requires a Digital Assets Principal Risk Analyst, and Goodwin is hiring a Technology Companies Blockchain Associate – Mid/Senior-Level.
Job seekers are encouraged to submit CVs, while employers can list job openings. For employers, we welcome links to your job postings. For employees, send us links to your online resumes and cover letters. Contact us at bostonblockchainassocation@gmail.com with the subject line "JOBS."
Subscribe to stay connected with the Boston blockchain scene