Boston Blockchain Events Week of September 27, 2021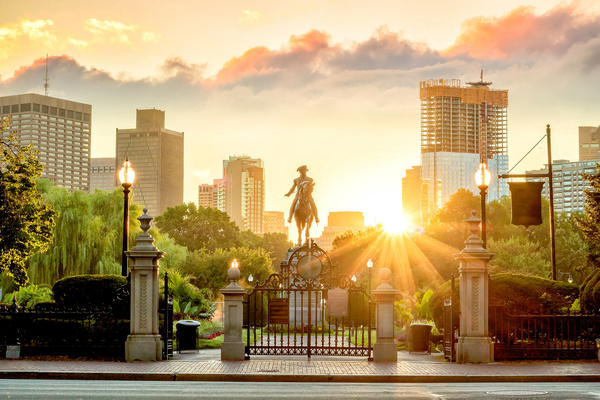 Boston Fintech Week 2021 is here! One of Boston's premier forums in the finserv space is back and packed with fintech innovation. The Boston Blockchain Association is a big fan and active Community Partner.
Blockchain and Distributed Ledger Technologies (DLT) offer immense possibilities for business, government, and consumers. These include the opportunity for extraordinary economic growth and cost efficiencies. Massachusetts should encourage the growth of these industries to ensure its economy can benefit from this opportunity for growth. And that's why we're also excited to announce that we've just released the "Massachusetts Legislator's Toolkit for Blockchain Technology" which is meant to help guide Massachusetts lawmakers in creating a favorable regulatory environment for blockchain projects within the Commonwealth.
If you aren't already, please help support blockchain development in Boston by becoming a member of the Boston Blockchain Association today. All you have to do is apply to become a member (takes just a minute of your time) to be sure you'll stay informed on all Boston area blockchain events. Blockchain technology is the future of many global industries. Get involved in the future.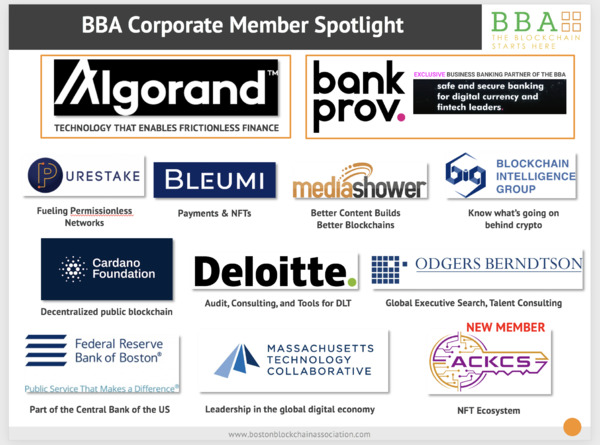 Here are the planned virtual and in-person events in Boston's blockchain community for the coming week(s):
Tuesday, September 28, 2021, 7:45 AM to Friday, October 1, 2021, 1:00 PM CDT
We have some great news! Boston FinTech Week will be back from September 28 to October 1, 2021. During this week, we'll explore new technologies and new ways of doing business, with an eye on sustainable finance, inclusivity, environmental, social, and corporate governance, decentralized finance, and — of course — the post-COVID future. Here's our line-up of events, all on "Blockchain Day" on September 30. As a special bonus, two other events are soon to be announced.
10:00 AM | Talent: The Elusive Link on the Blockchain
Noon | Deep Dive into Crypto and Digital Assets
4:00 PM | How Should the Government Respond to Crypto and Blockchain?
Thursday, September 30, 2021 9:00 AM to 10:00 AM CDT
As the blockchain industry continues to grow at a rapid pace, the greatest demand by companies is in talent — from developers to marketers. Utilizing data to inform the talent recruitment process is not new, yet this session will highlight some of the emerging trends in data analytics that are gaining traction in blockchain through creative collaborations between research, industry, and economic development organizations.
Thursday, September 30, 2021 3:00 PM to 4:00 PM CDT
Blockchain technology is extremely useful for governments: from creating new digital assets like blockchain bonds, to efficiently storing licenses and registrations, to securing digital voting and campaign finance. This session will focus on real-life blockchain use cases being launched in governments around the world. We will also hear about the new "Massachusetts Legislator's Toolkit for Blockchain Technology," a resource to guide Massachusetts lawmakers as they navigate this new sector of the innovation economy.
Thursday, September 30, 2021 11:00 AM to 12:00 PM CDT
Big banks are making big bets on crypto. New England's own BankProv created a new line of Business Banking solutions focused on the crypto markets. Meanwhile, Fidelity Digital Assets continues to expand its suite of services and solutions for blockchain investors. On the consulting side, Deloitte has established an industry-leading blockchain audit and consulting practice. As such, the Boston marketplace is accelerating its leadership in the banking and crypto space. Attendees will hear insights on where banks and financial institutions are headed, as well as both the challenges and the opportunities in banking and crypto.
Tuesday, September 28, 2021 5:00 PM to 7:00 PM CDT
Forget Truffle. Use your Python skillz to manage, deploy, test, and build Solidity smart contracts. This hands-on tutorial by Maestro Hector Santana will show you how.
---
Careers in Blockchain
Looking for a career in blockchain? Looking to hire great blockchain talent? Then you'll love the Blockchain Jobs section of our newsletter and website.
But before you start looking for your dream job we'd also appreciate it if you could take a moment of your time to complete a short (30 second) survey to help us improve your experience with the Boston Blockchain Association in the future. You can access the survey here. Thank you in advance for your time and attention.
We are also excited to welcome ACKCS, an NFT platform startup where time-tested true value is created, captured and exchanged. They are looking for a senior software engineer as the CTO/co-founder for the platform. For more information on this exciting job opportunity, reach out to George Hu at info@abcnodes.com, or see the full posting here:
https://angel.co/company/ackcs-blockchain-nodes/jobs/1605227-chief-technology-officer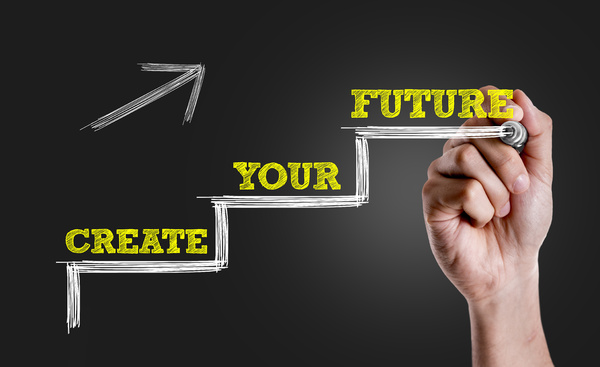 If you are a blockchain professional interested in finding your next job opportunity, check out the Boston Blockchain Association Network, where we post a curated list of blockchain employment opportunities in the Boston area.
New blockchain jobs are continually added, and there's sure to be something suitable for your talents For example, Algorand is looking for a Senior Technical Product Manager and a number of Software Engineers.
Writers are welcome to apply for a Writing Position with Media Shower. Or consider working for Coinbase. They have a massive number of openings for remote workers with all types of skill sets. Why not consider a position as a Blockchain Solution Architect at Accenture or Staff Software Engineer, Distributed Systems – Blockchain Engineering at VMWare? There's also an opening for a Blockchain Systems Admin/Ops for Chainlink Labs. Or maybe Project Manager at Flipside Crypto is more to your liking.
New positions this week include Head of Blockchain for State Street Bank or a Crypto Analyst for Fidelity Investments.
Job seekers can submit CVs, and employers can list their blockchain job openings. For employers, we welcome links to your blockchain job postings; for employees, we welcome links to your online resume or CV. Please reach out to bostonblockchainassocation@gmail.com with the subject line "JOBS."
You should also consider joining the Boston Blockchain Association today. Just fill out an application and you will stay up to date on all Boston-area blockchain happenings.