Boston Blockchain Events Week of May 3

It's finally here! Boston Blockchain Week kicks off on Monday, May 3, and runs through Friday, May 7. The Boston Blockchain Association is celebrating with you by hosting seven different events. You can see the full list here or scroll down to get a full description of all events. What a great way to welcome the spring to Boston!
---
If you aren't already, please help support blockchain development in Boston by becoming a member of the Boston Blockchain Association today. All you have to do is apply to become a member (takes just a minute of your time) to be sure you'll stay informed on all Boston area blockchain events. Blockchain technology is the future of many global industries. Get involved in the future.
We'd also appreciate it if you could take a moment of your time to complete a short (30 second) survey to help us improve your experience with the Boston Blockchain Association in the future. You can access the survey here. Thank you in advance for your time and attention.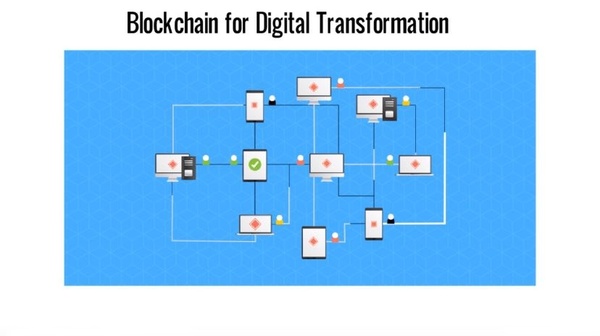 Here's a special deal on a new Udemy course on blockchain for executives and entrepreneurs who want to promote blockchain in their organization or raise capital for their blockchain ideas.
The course was architected by Mey Lakshmanan, President and CEO at Enthalpium, in conjunction with two top-notch trainers and is available on Udemy as 'Blockchain for Digital Transformation'. The special deal is that throughout May, the course is FREE to BBA newsletter subscribers.
Goals of the course:
To make the students fluent in blockchain concepts and vocabulary, thereby help them solve business problems using a blockchain.
To make students understand the evolution of  trade, and how blockchain is helping in minimizing intermediaries to increase the margins for trade
To enrich the students with a real example to use blockchain in customs clearance, thereby enabling the student to think on those lines for their organization or their idea.
To enrich the students with Agile concepts (Scaled Agile Framework for Enterprises – SAFe) at the Portfolio level to raise investment for their idea in their organization or with an investor.
The course was designed right here in Boston and has been rated 4.9 stars from day one. Many of you are already on the blockchain journey and this course will help you in taking your journey to the next level.
And here is a special code in Udemy for folks aligned with Boston BlockChain Association that will allow you to take the course for FREE.
Link valid till May 31, 2021 – https://www.udemy.com/course/blockchain-for-digital-transformation/?couponCode=BCDT052021

Here are the planned virtual and in-person events in Boston's blockchain community for the coming week(s):
Monday, May 3, 2021 1:30 PM to 3:00 PM EDT
Event runs through Friday, May 7, 2021.
This is your chance to learn about the exciting innovation hub for crypto and blockchain activity that's built in the Greater Boston area! QUBIC Labs, a startup incubator based in Quincy, is creating an ecosystem of blockchain and crypto businesses supported by public, private and nonprofit sector partnerships and capital — alongside organizations like the Boston Blockchain Association, with our active community of 2000+ blockchain enthusiasts around the world. Presented as part of Boston Blockchain Week, this panel will highlight the work being done independently and collectively through QUBIC Labs to make Greater Boston the global hub of blockchain. Find out more about the speakers and events throughout the week.
Monday, May 3, 2021, 4:00 PM to 5:00 PM EDT
Wondering how angel investors decide which blockchain startups to invest in? Join Chain Reaction to get inside the minds of some of Boston's most active blockchain investors and hear about their decision-making process when investing in the blockchain space. The event will be run in the same way as Chain Reaction's monthly pitch meetings– only this time the investors will be in the hot seat and will each have 5-7 minutes to "pitch" their blockchain investment thesis and then answer audience QA!
Tuesday, May 4, 2021, 1:30 PM to 2:30 PM EDT
The crypto industry doesn't exist in a vacuum: in the U.S. and elsewhere, law enforcement and regulatory agencies have considered how (and whether) to regulate the fast-growing crypto industry. How can governments encourage innovation, financial privacy, and financial inclusion, while still protecting investors and citizens? Regulation and government enforcement plays a critical role in how the participants in this space – developers, entrepreneurs, investors, and others – can operate. This panel of experts with current and former government careers in both civil and criminal enforcement (Treasury, FinCEN, and the U.S. Department of Justice) will share their perspectives and insights on crypto regulation in this age of DeFi. Join us!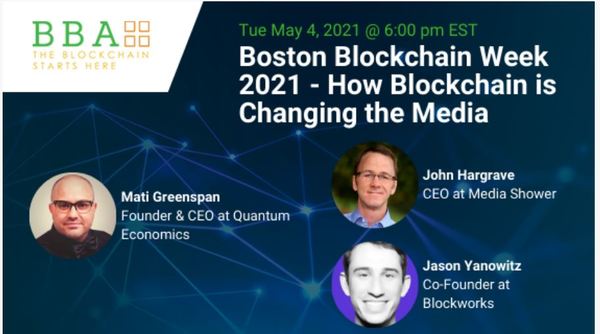 Tuesday, May 4, 2021, 6:00 PM to 7:00 PM EDT
As meme stocks, NFTs, and Dogecoin make the headlines — and make a lot of people rich — the old guard of financial media is realizing that the world is fundamentally changing. That's because mass communication is changing, away from Jim Cramer and toward r/WallStreetBets, away from the Federal Reserve and toward Elon Musk, away from financial analysts and toward Substack newsletters. Targeted to anyone in the media, marketing, or communications space, this event will be an insightful discussion on these trends between three crypto media veterans:
MATI GREENSPAN, a frequent contributor to Bloomberg, CNBC, and The Wall Street Journal — and founder of his own media company Quantum Economics (quantumeconomics.io)
JASON YANOWITZ, co-founder of BlockWorks, the NYC-based financial media firm focused on editorial content, newsletters, podcasts, and events around digital assets (blockworks.co)
JOHN HARGRAVE, CEO of Media Shower, the media and communication firm specializing in blockchain — and author of BLOCKCHAIN FOR EVERYONE (mediashower.com)
Wednesday, May 5, 2021, 1:30 PM to 3:00 PM EDT
The Boston-based Algorand blockchain, founded by MIT Professor and native Italian, Silvio Micali, is a pure proof-of-stake protocol that's moving the payments industry forward. This panel, previously presented in conjunction with Luxembourg Blockchain Week, will feature three distinct use cases of Algorand:
Monerium, the first licensed eMoney for Euros.
PlanetWatch, the first-of-its-kind climate monitoring technology.
Caffé Barbera, an innovative global coffee distributor that's now accepting crypto payments.
Discover how the Algorand protocol is being used to mint and move money more securely, less expensively, and with greater transparency; to incentivize, track, store and share global climate data; and to drive competitive advantage and lower distribution costs.
Wednesday, May 5, 2021, 7:00 PM to 8:00 PM EDT
Billions of USD have been lent against crypto collateral in the first four months of 2021. Anchorage, the first federally-chartered digital asset bank, and Crypto.com recently announced on-chain credit card settlements. This is a big deal, showing that traditional financial services players are making the move to blockchain. We are thrilled to have Diogo Monica, CEO of Anchorage Bank, talk more about this first-ever partnership. He'll dig in on what's working, what's coming, and how they see the future of blockchain-based payments and lending. This event will be hosted by Warren Brown, Boston Blockchain Association Board Member and VP Banking & Debt at Sivo, the world's first global debt-as-a-service platform.
Thursday, May 6, 2021, 10:30 AM to 11:30 AM EDT
For technologists, social champions, and business leaders! Boston Blockchain Association and FintechWomen are collaborating to spotlight a critical discussion on Driving Diversity and Inclusion in Blockchain. We all recognize the need for diversity and the benefits of inclusion in new-tech-driven innovation. But how do we take this from concept to reality? As individuals and leaders in blockchain, what actionable steps can we take to normalize diversity and inclusion in the industry? We've assembled a panel of accomplished leaders — Kristen Michaud, Maryanne Morrow, and Yuri Cataldo — to join FintechWomen and Boston Blockchain Association Board Member Lynne Marlor for a powerful and passionate discussion on the state of diversity within blockchain.
Thursday, May 6, 2021, 1:30 PM to 2:30 PM EDT
The Boston Blockchain Association welcomes Natalie Gil, one of Latin America's leading women in FinTech and Blockchain (and an MIT Sloan Fellow!), for a deep dive into how LATAM is leveraging blockchain to bring financial inclusion to the business communities across the region. Natalie will share her own insights about the financial markets in Argentina, Colombia, and Peru, drawing on her experience as Corporate Chief Architect & Chief Technology Officer for Auna, Peru's largest network of hospitals and clinics — as well as Columbia's largest regional network of hospitals. Joining her will be an incredible panel including Yesika Padilla Yanez, Director of Technology Innovation for Banco Davvienda of Bogotá, one of the largest banks in Colombia as well as Mike Barrow of OpenVino of Argentina, the world's first open-source, transparent winery and wine backed cryptocurrency.
Thursday, May 6, 2021, 6:00 PM to 7:00 PM EDT
Join us for an incredible lineup of founders in the crypto industry as they discuss their fascinating journeys in starting their companies. Our panelists will be:
Alexis Gauba, co-founder of Opyn, a DeFi options protocol
Beatrice O'Carroll, ex-Circle, CEO of NautilusTech, a US-based OTC trading desk
Thessy Mehrain, co-founder of Liquality, a trustless cross-chain liquidity network and swap enabled multi chain wallet
Friday, May 7, 2021, 4:00 PM to 5:00 PM EDT
Join David Vorick for Boston Blockchain Week 2021 as we cover decentralized social media as well as how creator economies will be transformed with upcoming content monetization in crypto. Additionally, we will showcase selected apps built from our latest hackathon around content sharing and creation. Win prizes for testing these apps and for dreaming up your vision of a decentralized future. Register for our hackathon at https://skynet-hackathon.hns.siasky.net/
---
Careers in Blockchain
Looking for a career in blockchain? Looking to hire great blockchain talent? Then you'll love the Blockchain Jobs section of our newsletter and website.
Please Consider Taking the Blockchain Talent Survey: This is an employer survey sponsored by our friends at the Blockchain Employer Network (BEN)) on what companies want to see in new blockchain hires. They will use this information to better tailor their excellent blockchain education programs for students.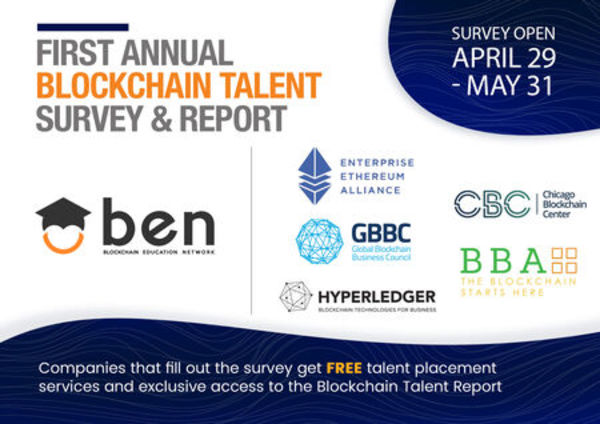 ---
Here's an opportunity in traditional finance for those looking to get into the banking industry, or move from their current position to join one of the few banks offering cryptocurrency services to their clients. BankProv is hiring individuals ready to help them build the future of banking. Visit their Career Page to see all the current openings.
To learn more about blockchain-friendly bank BankProv you might want to check out our Replay of Boston Blockchain Association Presents: Future Ready Banking. Attendees gave it 4.8 out of 5 stars.
---
If you are a blockchain professional interested in finding your next job opportunity, check out the Boston Blockchain Association Network.
New blockchain jobs are continually being added, and there's sure to be something suitable to your talents now or in the coming weeks. For example, Algorand is looking for a range of Senior Software Engineers. Algorand has really been growing and recently surpassed 10 million accounts. Join a leading blockchain project and add your talents to the future of finance.
There are also opportunities for a Blockchain Data Engineer with Coin Metrics, or maybe as a Staff Applied Cryptographer at Coinbase. Maybe you aren't a programmer but are technically inclined? Blockchain cloud storage firm Filebase is looking for a Developer Growth Advocate and a Technical Writer.
Job seekers can submit CVs, and employers can list their blockchain job openings. For employers, we welcome links to your blockchain job postings; for employees, we welcome links to your online resume or CV. Please reach out to bostonblockchainassocation@gmail.com with the subject line "JOBS."
You should also consider joining the Boston Blockchain Association today. Just fill out an application and you will stay up to date on all Boston-area blockchain happenings.