Boston Blockchain Events Week of March 2, 2020
Boston Blockchain Week kicks off this coming weekend (March 7), and it's going to be an exciting week. The weekend kicks off at MIT with an expo for a myriad of talented speakers commenting on technically interesting topics, a 24-hour hackathon, and the inaugural Cryptoeconomic Systems Conference (CES '20).
Following that, Algorand will host a BBW Kickoff Party next Monday (March 9). Seats are limited so Register Now! You'll also want to check out the Boston Blockchain Association event on Thursday March 12. And, of course, there will be plenty of events and activities leading up to Boston Blockchain Week.
If you aren't already, please help support blockchain development in Boston by becoming a member of the Boston Blockchain Association. All you have to do is apply to become a member (takes just a minute of your time) to be sure you'll stay informed on all Boston area blockchain events.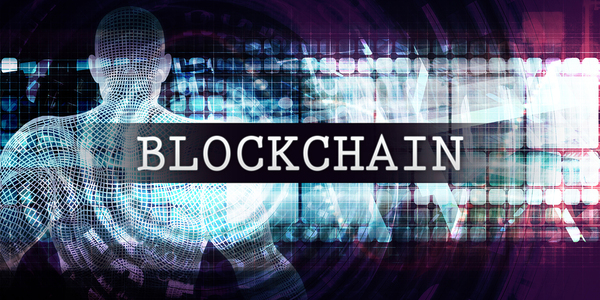 Here are the planned events in Boston's blockchain community for the coming week:
Wednesday, March 4, 2020 @ 5:30 PM to 7:30 PM
This will be a two part discussion about Kubernetes:
Part 1: Running Your Tools On Kubernetes
Part 2: Kubernetes in Weird Places
Location: 399 Boylston St,. Boston, MA. How to find Meetup: When you are arrive at 399 Boylston, stop at the security desk, check-in and ask for Slalom Build. Click here to register.
Thursday, March 5, 2020 @ 6:00 PM to 9:00 PM
This will be a roundtable discussion focused on modern day Site Reliability, Performance and Scalability concerns including Analytics, IOT, Cloud, Blockchain, Machine Learning/Big data/AI. Please bring your stories, concerns and enthusiasm. Sign up here. Location: 263 Summer St., Boston, MA.
Friday, March 6, 2020 @ 7:00 PM to 9:00 PM
For the second meetup of 2020, we're excited to bring John and Justin from New York to lead the discussion! Happening on the eve of the MIT Bitcoin Expo and the beginning of Boston Blockchain Week, we're excited to welcome everyone to Boston/Cambridge! Everyone is welcome to join. Be aware that the conversation will be technical and bitcoin-specific. Questions and discussion mandatory! Location: MIT Building 1, Room 190 (1-190), 33 Massachusetts Ave., Cambridge, MA.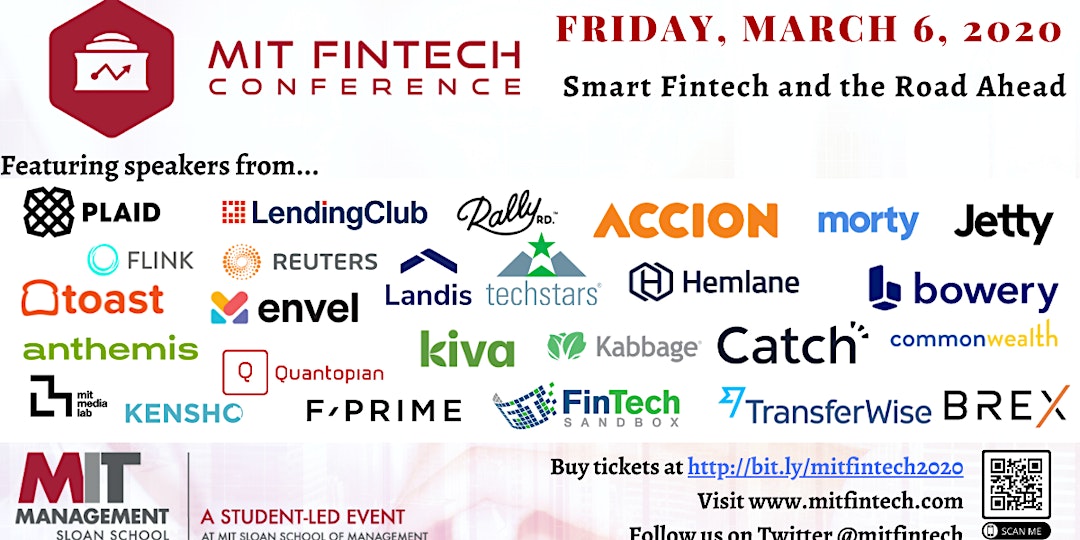 Friday, March 6 @ 8:00 AM to 7:30 PM
The 2020 MIT Fintech Conference, one of the nation's largest student-run fintech events, is the 6th annual conference planned and organized by MIT students. Our conference features a world-class slate of keynote speakers and panelists to discuss the latest trends and innovation shaping fintech. The conference serves as a forum to promote the exchange of ideas by attracting technologists, entrepreneurs, investors, academics, financial professionals, and university students. The event also includes a startup pitch competition. Learn more here! Location: Aloft Boston Seaport District, 401-403 D Street, Boston, MA.
Boston Blockchain Week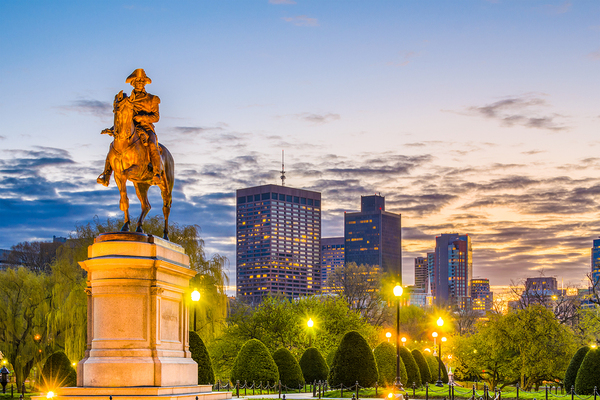 Saturday, March 7, 2020 9:00 AM to Sunday, March 8, 2020 5:00 PM
The MIT Bitcoin Club is a student and blockchain-enthusiasts run club at MIT, whose mission is to increase awareness and use of cryptocurrency and to provide forums where blockchain-related ideas, projects, programs, and businesses can be studied, discussed, and developed. The club has also organized the MIT Bitcoin Expo every year since 2014 — a two day conference focused on all things blockchain. This year's focus is on the state of the art of the emerging protocol stack. From efforts to optimize base-layer protocols and sustained interest in privacy integration to second-layer development and standardization, the past year has brought both incredible innovation and increasing scrutiny.
Saturday, March 7, 2020 9:00 AM to Sunday, March 8, 2020 5:00 PM
This year's hackathon focuses on building out the components of a blockchain stack so we can expand the technology's usefulness and increase adoption. This 24-hour hackathon will bring together students for a weekend of coding, learning, experimenting, and collaborating. Separate registration required at link above.
Saturday, March 7, 2020 8:00 AM to Sunday, March 8, 2020 5:30 PM
The Cryptoeconomic Systems journal and conference series aims to be a reputable venue and scholarly publication of record for impactful original research and reviews, analyses & systematizations of existing knowledge with a focus on cryptocurrency & blockchain technology. By bringing together the technical fields of cryptography, protocol engineering and distributed systems research with insights from the domains of economics, law, complex systems and philosophy we hope to help crystallize a mature research commons. Location: Building 54, MIT Campus, Cambridge, MA.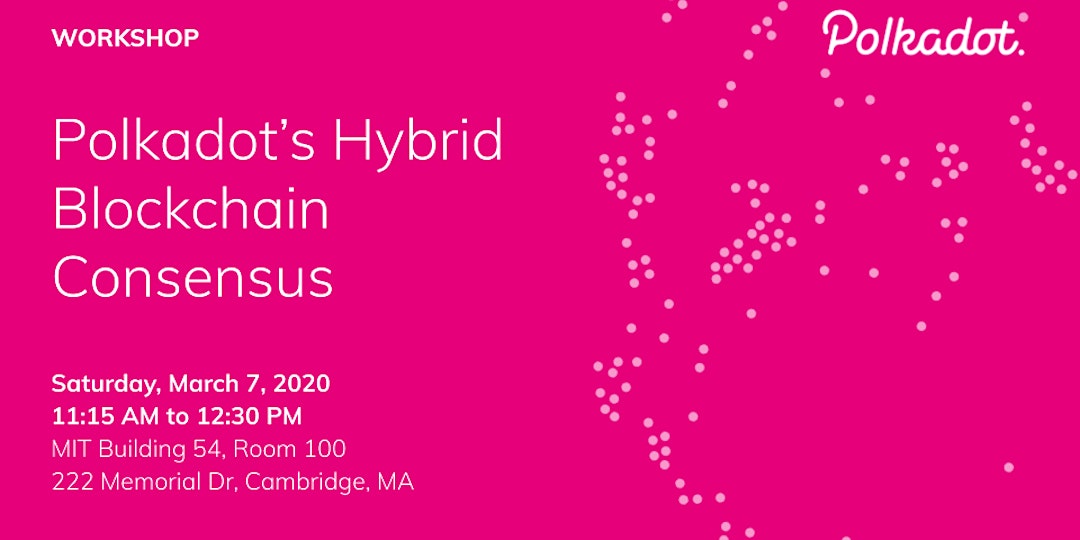 Saturday, March 7, 2020 11:15 AM 12:30 PM
Join Web 3 Foundation's Bill Laboon for a deep dive workshop into how the BABE and GRANDPA protocols work, how they are used in Polkadot to produce and finalize blocks, and how together they can provide an extremely high-uptime, yet finalizable, production of a canonical history. Location: MIT, Building 54, Room 100, 222 Memorial Drive, Cambridge, MA.
Saturday, March 7, 2020 5:30 PM 7:30 PM
As part of MIT Bitcoin Expo 2020 and Boston Blockchain Week 2020, we are hosting a women's networking hour on March 7th. Come join us for an evening of fun conversations and meet some of the speakers from the MIT Bitcoin Expo. Location: Meadhall, 90 Broadway, Cambridge, MA.
Monday, March 9, 2020 4:00 PM 8:00 PM
Join the Algorand team at their offices for an evening of cocktails and conversation to kick off Boston Blockchain Week. The best and the brightest in Boston will come together for an evening of thought leadership, conversation and networking. Bloomberg's Janet Wu will moderate an all-star panel featuring Jim Cunha (Federal Reserve Bank of Boston), Terrence Dempsey (Fidelity) and Steve Kokinos (Algorand). Limited Seats – Register Today! Location: 399 Boylston Street, Boston, MA, 02116.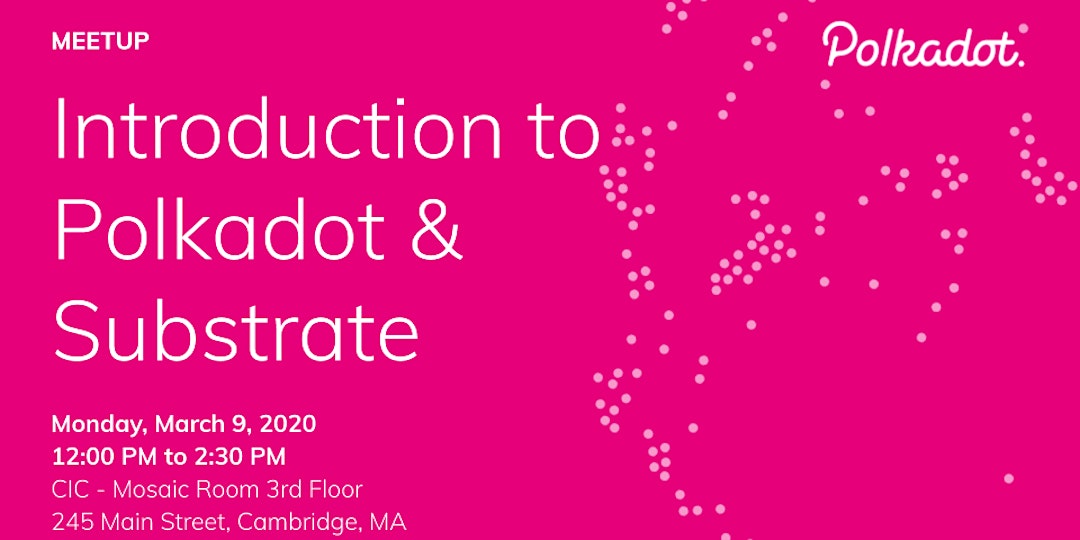 Monday March 9, 2020 12:00 PM – 2:30 PM
In the first half of the meetup, we'll discuss the basics of Substrate. Substrate allows anyone to create their own blockchain, setting parameters as they see fit. We'll also discuss a few projects that are already being built on Substrate. This half of the meetup will be relatively non-technical. After a short break, we'll take a deeper dive into Substrate, generating and running our own blockchain with parameters of our choosing. This half of the meetup will go more in-depth in regards to the codebase and will be rather technical. Location: CIC – Mosaic Room – 3rd Floor, 245 Main Street, Cambridge, MA.
Thursday, March 12, 2020 6:30 PM to 9:30 PM
An undefined and disparate regulatory landscape proves one of the greatest obstacles blockchain companies must overcome to succeed. In order to effectively innovate, these ground rules need to be clear for all participants involved. In the last couple years there has been ever evolving clarity, but startups still encounter contradictory and unclear guidance. This panel brings together entrepreneurs who have faced regulation head on and the policy makers and advisors helping set these ground rules. Sign up here! Locaton: 24 School St., Boston, MA. How to find Meetup: The Workbar entrance is on School Street, across from Scholars. Enter the lobby where our ambassador will greet you. The event is conveniently located near State, Government Center, and Park Street T stops.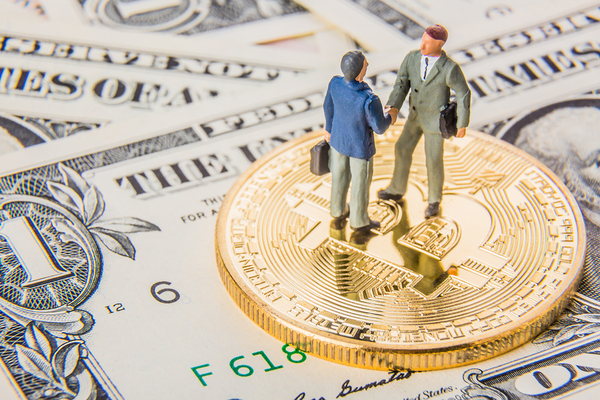 Careers in Blockchain
Looking for a career in blockchain? Looking to hire great blockchain talent? We're starting a new Blockchain Jobs section of our newsletter and website.
If you are a blockchain professional interested in finding your next job opportunity, check out the Boston Blockchain Association Network.
New blockchain jobs are continually being added, including positions for Java Developer at Disys, Remote Golang Developer for CyberCoders, and Full Stack Developer at Raytheon.
Job seekers can submit CVs, and employers can list their blockchain job openings. For employers, we welcome links to your blockchain job postings; for employees, we welcome links to your online resume or CV. Please reach out to bostonblockchainassocation@gmail.com with the subject line "JOBS."
You should also consider joining the Boston Blockchain Association today. Just fill out an application and you will stay up to date on all Boston-area blockchain happenings.